Have you ever wondered what goes into choosing a name for a rogue character in a video game or tabletop role-playing game? The process of selecting a name that captures the essence of a stealthy and cunning character can be both challenging and exciting. In this article, we will explore the intriguing world of rogue names and delve into the factors that make them so captivating.
We will discuss the significance of a well-chosen name in establishing a character's identity, the various sources of inspiration for rogue names, and the different types of names that are commonly associated with this archetype.
So, whether you're a gamer looking for inspiration or simply curious about the art of naming, join us as we uncover the secrets behind the names of rogues.
List of Rogue Names
Looking for a mysterious and cunning alias? Explore our collection of rogue names, ideal for gamers and fantasy enthusiasts alike.
Shadowblade
Nightstalker
Blackheart
Crimson Fang
Darkfire
Viperstrike
Moonshadow
Ravenwing
Dreadscythe
Stormbreaker
Bloodthirst
Deathbringer
Shadowfang
Nightshade
Blackwidow
Darkmoon
Vipersong
Moonraven
Dreadblade
Stormcutter
Funny Rogue Names
Looking for a good laugh? Check out these side-splitting funny rogue names that will have you rolling on the floor with laughter.
Sneaky McSneakface
Stickyfingers
Master Pickpocket
Cheeky Thief
Whiskey Jack
Rum Runner
Sly Fox
Mischievous Marauder
Clever Bandit
Wily Rascal
Knifey McStabberson
Quickfinger Jones
Velvet Shadow
Nimble Nuisance
Devious Dastardly
Shifty McShadester
Cunning Con Artist
Smooth Operator
Bold Burglar
Roguey McRoguerson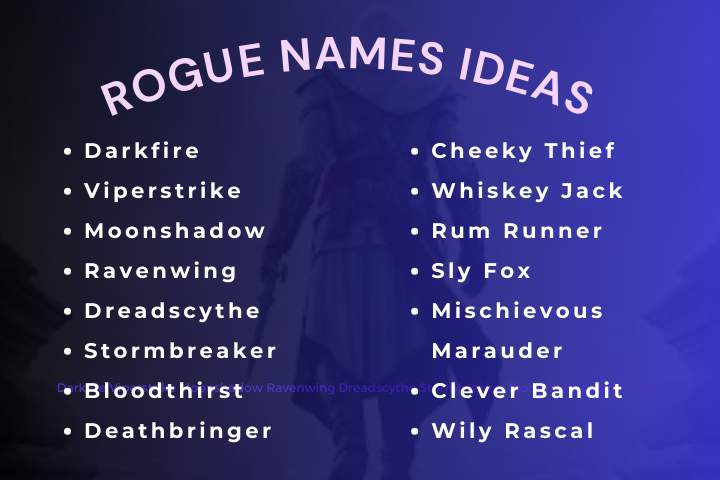 Famous Rogue Names
Discover the most infamous rogue names in history. From legendary outlaws to cunning spies, explore their thrilling tales and secret exploits.
Ezio Auditore (Assassin's Creed)
Black Widow (Marvel Comics)
Han Solo (Star Wars)
Catwoman (DC Comics)
Robin Hood (English folklore)
Jack Sparrow (Pirates of the Caribbean)
Lisbeth Salander (The Girl with the Dragon Tattoo)
Remy LeBeau/Gambit (Marvel Comics)
Inigo Montoya (The Princess Bride)
V (V for Vendetta)
Arsène Lupin (French literature)
Nathan Drake (Uncharted video game series)
Carmen Sandiego (Where in the World is Carmen Sandiego?)
Aladdin (Arabian Nights)
Mystique (Marvel Comics)
Garrett (Thief video game series)
Thomas Crown (The Thomas Crown Affair)
Carmen Jones (Carmen Jones musical/movie)
Spyro LeFey (Spyro video game series)
Nathan Ford (Leverage TV series)
Mythological Rogue Names
Dive into the enchanting world of mythological rogue names. Unlock hidden stories and choose a name that embodies cunning and mystery.
Loki (Norse mythology)
Anansi (African folklore)
Kitsune (Japanese mythology)
Coyote (Native American folklore)
Hermes/Mercury (Greek/Roman mythology)
Raven (Native American folklore)
Kelpie (Celtic mythology)
Eshu (Yoruba mythology)
Ratatosk (Norse mythology)
Reynard the Fox (European folklore)
Triptolemus (Greek mythology)
Puck/Robin Goodfellow (English folklore)
Chantico (Aztec mythology)
Paikea (Māori mythology)
Eshmunu (Mesopotamian mythology)
Oya (Yoruba mythology)
Kokopelli (Native American folklore)
Prometheus (Greek mythology)
Manawydan/Mabon (Welsh mythology)
Apep/Apophis (Egyptian mythology)
Female Rogue Names
here are few Female Rogue Names.
Alarice
Elenora
Rowena
Seraphine
Isadora
Lyra
Adelina
Darien
Kalista
Aurelia
Brielle
Nova
Freya
Wren
Zara
Sabine
Jasmine
Anastasia
Gwendolyn
Astrid
Male Rogue Names
Are you looking for Male Rogue Names, check here.
Kael
Lucien
Asher
Daxton
Finnian
Cassius
Jaxon
Magnus
Rafe
Ezra
Lachlan
Leonidas
Viktor
Declan
Jet
Cyrus
Dante
Apollo
Nikolai
Lorenzo
How to Create a Rogue Name
Start with an adjective or noun that describes your character's personality or appearance, such as Shadow, Night, Black, Crimson, Dark, Viper, Moon, Raven, Dread, Storm.
Add a second word that reflects their skills or attributes, like Blade, Stalker, Heart, Fang, Fire, Strike, Shadowblade, Nightstalker.
Consider incorporating elements of thievery and mischief into the name by adding words like Thief, Rogue, Bandit, Pickpocket.
Play around with different combinations until you find a name that sounds unique and fitting for your character.
Alternatively, use one of the lists provided above for inspiration and modify a name to fit your character's persona.
Good Rogue Names
Step into the shadows with our curated list of good rogue names. Embrace your dark side and leave a legacy in the gaming universe.
Shadowheart
Nightshade
Blackfang
Crimson Blade
Darkstrike
Viperclaw
Moonblade
Ravenstorm
Dreadthorn
Stormeye
Bloodcloak
Deathwhisper
Shadowstrike
Nightshroud
Blackclaw
Darkshadow
Viperheart
Moonstorm
Dreadblade
Stormfury
Wow Rogue Names
Looking for a badass Rogue name? Explore our collection of unique and creative names that will make your WoW character stand out from the crowd.
Sanguineblade
Shadowstep
Thistlefur
Perdition's Blade
Bloodfang
Backstabber
Assassindagger
Shadowdance
Ghostwalker
Shivblade
Bloodyknives
Darkshroud
Venomsnare
Daggerstorm
Deathcloak
Nightstealth
Shadowstalker
Silentpoison
Moonshadow
Vanishstrike
Cool Rogue Names
Need a cool name for your sneaky character? Explore our list of epic rogue names, perfect for any adventure or game.
Nightfall
Darkfire
Viperstrike
Shadowblade
Stormbreaker
Bloodthirst
Moonshadow
Blackheart
Dreadscythe
Nightstalker
Ravenwing
Crimson Fang
Deathbringer
Moonraven
Dreadblade
Nightshade
Blackwidow
Crimson Shadow
Midnight Blade
Shadowfire
D&D Rogue Names
Looking for a memorable name for your D&D Rogue? Explore our diverse range of naming ideas and find the perfect fit for your shadowy protagonist.
Zephyr
Tiberius
Kestrel
Azriel
Ravenwind
Thorne
Shadowdancer
Gwyneth
Nightshade
Rogueblade
Velvetshadow
Sablecloak
Crimsonthorn
Frostfang
Moonwhisper
Daggerstrike
Mysticshadow
Voidheart
Shadewing
Crimsonstorm
Famous Rogue Characters
Uncover the captivating tales of famous rogue characters who have become icons of mischief and rebellion. Prepare to be spellbound!
Will Turner (Pirates of the Caribbean)
Black Widow/Natasha Romanoff (Marvel Comics/MCU)
Bugs Bunny (Looney Tunes)
Red (Shawshank Redemption)
Gambit/Remy LeBeau (X-Men)
Snake Plissken (Escape from New York/L.A.)
The Doctor (Doctor Who)
Dom Cobb (Inception)
Tyler Durden (Fight Club)
Mal Reynolds (Firefly)
Fox (The Cunning Little Vixen)
Han Solo (Star Wars)
Neil McCauley (Heat)
Lara Croft (Tomb Raider)
Alice (Resident Evil)
Sam Fisher (Splinter Cell video game series)
Jack Sparrow (Pirates of the Caribbean)
Warrior Cat Rogue Names
Seeking extraordinary rogue names for your warrior cat? Look no further! Our curated collection will set your feline apart from the rest.
Shadowstrike
Nightpelt
Blackfrost
Crimsonclaw
Darkwhisper
Viperfang
Mistrunner
Moonshadow
Dreadclaw
Stormfur
Ravensong
Nighteye
Blackheart
Crimsonmoon
Darkfire
Viperstrike
Shadowwhisper
Moonpelt
Dreadstorm
Stormclaw
Alternate Spellings for Rogue Names
Looking for a fresh take on rogue names? Explore our collection of alternate spellings and bring a new level of originality to your characters.
Shadoe (Shadow)
Nite (Night)
Blak (Black)
Krymsyn (Crimson)
Darkk (Dark)
Vipurr (Viper)
Nytshayd (Nightshade)
Dredclaw (Dreadclaw)
Storme (Storm)
Fyre (Fire)
Ravyn (Raven)
Nytefrost (Nightfrost)
Bloodeye (Bloodeye)
Daggerwynn (Daggerwin)
Moonfyre (Moonfire)
Tauren  Rogue Names
Stand out from the crowd with the best Tauren Rogue names. Explore our handpicked selection and find the perfect alias for your WoW character.
Shadowsong
Nightwalker
Blackhorn
Crimsonmane
Darkhoof
Viperstrike
Thunderclaw
Moonrunner
Dreadmuzzle
Stormhoof
Ravensight
Nightmare
Blacktail
Crimsonblade
Darkheart
Viperfang
Moonshadow
Dreadwalker
Stormbreath
Thunderstrike
Witty Rogue Names
Ready to inject some humor into your game? Explore our list of witty rogue names that will add a touch of mischief to your RPG adventures.
Quickwit
Cunningblade
Slymoon
Sharpshadow
Swiftstrike
Deftclaw
Cleverheart
Wittywhisper
Steeltrap
Charmblade
Clevercloak
Fastfingers
Sneakysnare
Nimblemind
Swiftfoot
Brightblade
Honeysmirk
Nimblestrike
Sneakyfox
Clevermind
Baby Rogue Names
Want to give your child a name that breaks the mold? Browse our handpicked list of baby rogue names that embody independence and charisma.
Shadowling
Nightbreeze
Blackpaw
Crimsonchild
Darkwhisperer
Viperling
Moonkit
Dreadpup
Stormcub
Ravenchick
Nightsprite
Blackkitten
Crimsonfawn
Darkwhelp
Viperspawn
Bloodchild
Moonpup
Dreadkitten
Stormcalf
Elf Rogue Names
Discover the perfect Elf Rogue names for your next tabletop adventure. Find unique, mysterious and cunning monikers for your stealthy character!
Shadowleaf
Nightwhisper
Blackthorn
Crimsonarrow
Darkcloak
Vipersong
Moonlily
Dreadshade
Stormswift
Ravenblade
Nightbloom
Blackwillow
Crimsonquill
Darkleaf
Viperstrike
Moonflame
Dreadswift
Stormsinger
Evendusk
Shadowmist
Also Read:
Conclusion
Choosing the perfect rogue name can add depth and personality to your character. With a little creativity and inspiration, you can come up with a name that perfectly suits your rogue's cunning, stealth, and mischievous nature. Whether you prefer a traditional fantasy or a more modern approach, there are endless possibilities for creating unique and memorable rogue names. So go forth and let your imagination run wild in naming your sneaky and clever characters! So go forth and let your imagination run wild in naming your sneaky and clever characters!